For where your treasure is, there your heart will be also.
God is generous and so he calls us to be as well. What we do with what God has given us shows the world where our hearts are at and helps proclaim the gospel. We want to glorify God with every area of our lives, and that includes what we do with our finances.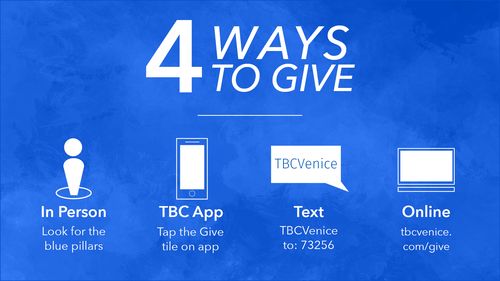 Tithes and offerings can be placed in the blue pillars in the foyer on Sunday mornings.
You can give through the app all while staying connected and getting the latest content
Text "TBCVenice" to 73256
Set up one time or recurring gifts through Realm, our online church system. You can also print off your contribution statement at any time during the year when you login to your Realm profile.
Checks can be sent directly to the church office at:
Attn: Contributions
720 Commerce Dr. Unit 104
Venice, FL 34292
Have questions about your giving or how to use Realm?